Installing and setting up the OneDrive App (If you do no already have the app)
1. Search for 'Self Service' in Spotlight on your Mac, then search for One Drive and click install.
2. Start OneDrive by pressing cmd+Space to launch a Spotlight query and type OneDrive. This starts the OneDrive Setup.
3. Enter your school email and then select Sign in to set up your account.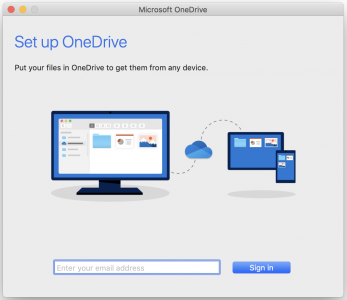 4. On the 'This is your OneDrive folder' screen, click 'Choose OneDrive Folder Location'.
5. Click on your name (with the house icon) and click Choose this location.
6. When you see the 'This is your OneDrive folder' screen, click Next to continue.
7. On the 'Sync Files from Your OneDrive' screen, you can choose the folders you want to sync to your computer, and click Next. You don't have to sync all of the folders if you don't want to, especially those with huge file sizes!
8. When you see 'Your OneDrive Is Ready for You', the last thing to do is make sure you select Open at login so my files sync automatically. This will ensure that OneDrive runs at login and you always have the most up to date version of all your files.
9. After you enable OneDrive to open at login, you're done! Click 'Open your OneDrive folder' to see your files sync to your folder.
10. Click the OneDrive cloud icon up in your Menu bar, click the three dots to open the menu, and select Preferences. Here you can make changes to the folders you sync.